Here + Now pioneers a new sustainability benchmark across two buildings with 145,650 sq ft of space for the ultimate wellness and community experience.
SUSTAINABILITY
Here + Now is proud to be net zero carbon with embodied carbon fully offset and all electricity powered by renewable resources.
WELLNESS
Here + Now is the first UK scheme to have achieved BREEAM Outstanding, Fitwel 3* and RESET® Air certifications.
COMMUNITY
Our social spaces for connection and community transcend the nine to five.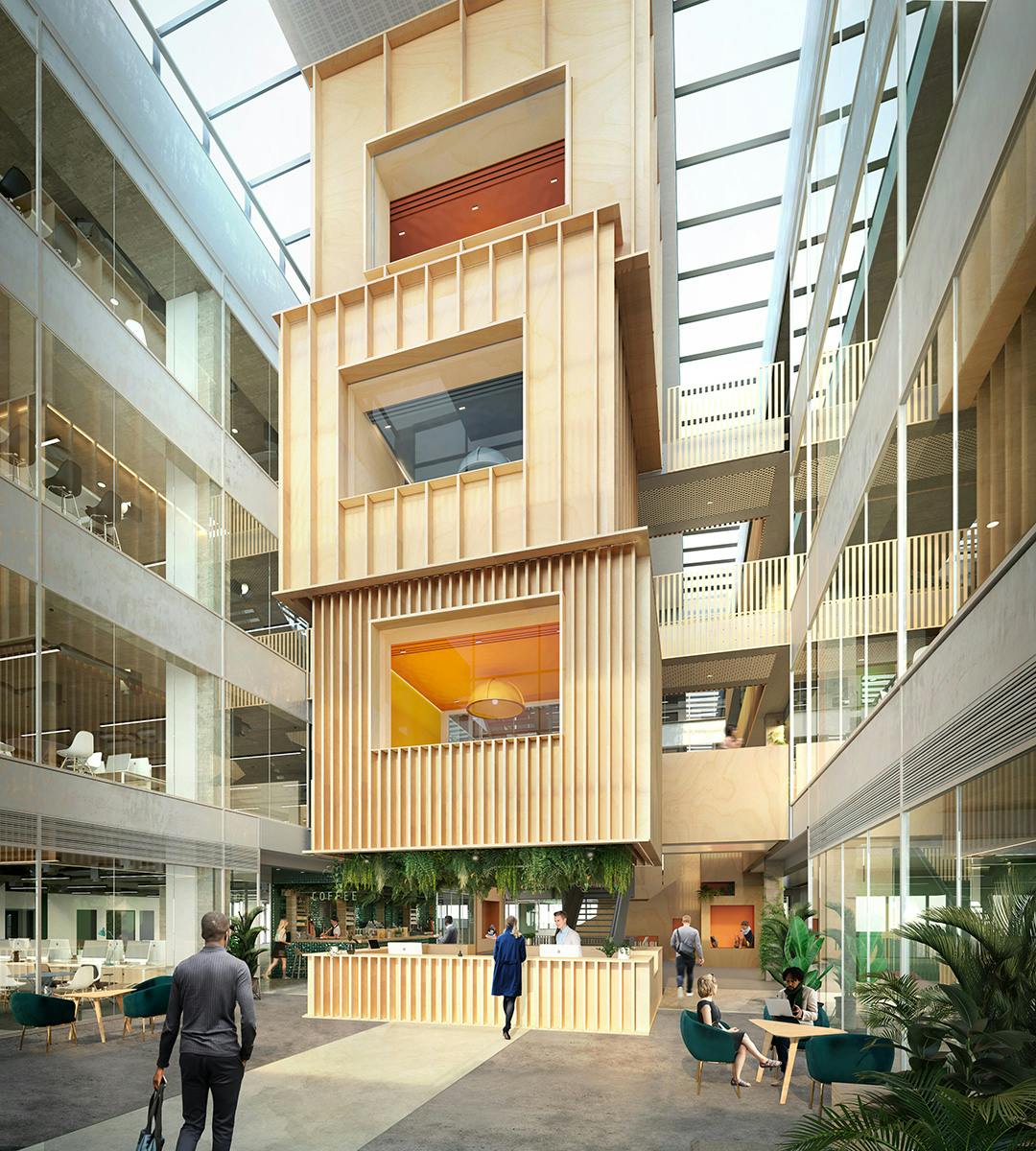 HERE AND NOW
TOP TEN
Cafés

With exotic planting and floor-to-ceiling windows, the café and coffee bar take inspiration from greenhouses and conservatories.  View More

Outdoor Cinema

Natural planting, timber and soft furnishings in the outdoor cinema create a relaxed and welcoming social space. View More

Fleet Room

Unique to Here + Now, our Fleet Room is where you can borrow things like stand-up paddle boards for messing around on the Thames and electric scooters to blow away the cobwebs.

Outdoor Working

Long gone is the 9 to 5 at the desk – our outdoor working zone provides variety and escapism when you need it. View More

Gym

The beating heart of Here, the gym and wellness facilities offer over 3,000 sq ft of exercise space, connecting directly to the outdoor gym. View More

Lifestyle Manager

At Here + Now we have our very own lifestyle manager who will ensure your health and wellbeing is catered for perfectly while at work.

Building App

The Here + Now building App allows you to attend events, book meeting rooms, take advantage of local discounts and even lets you order coffee. View More

Cycling

Our cycling facilities have been intricately designed by 5 at Heart to provide a first class end-of-journey amenity. 

The Treehouse

A treehouse of meeting rooms provides a focal point for Here and spaces to host a more inspiring type of meeting. View More

Thames Nature Reserve

Over 80 acres of wetland habitat alongside the River Thames provide green space for walking, cycling and relaxation.